Soccer Jersey Framing
Soccer, or as much of the world calls it, football, is more than just a sport—it's a global phenomenon that transcends boundaries and unites hearts. A language spoken in stadiums, on streets, and in every corner of the world, it embodies the dreams, aspirations, and joys of countless individuals. The game's rhythm, from the meticulous build-up of an attacking play to the crescendo of a net-shaking goal, is a symphony of strategy, skill, and shared passion that resonates deeply with players and fans alike.
You are limited only by your imagination and quite honestly, I've framed pretty much everything you can imagine.
I recognize the profound significance of these emotions and the memories stitched into every soccer jersey. Each thread carries tales of valor, moments of sheer ecstasy, and heartaches from near misses. Whether it hails from the electric atmosphere of an MLS match, the grandeur of a FIFA World Cup, or the elite, high-stakes drama of UEFA competitions, I'm dedicated to ensuring every jersey—and the stories it harbors—is framed with the reverence and attention it truly deserves.
Goals, Glory, and Hometown Pride

MLS Jersey Framing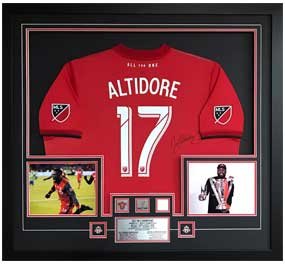 Major League Soccer represents the heart and soul of professional soccer in North America. Each jersey, from the roaring fans of LA Galaxy to the passionate supporters of Toronto FC, carries stories of local rivalries, iconic goals, and community pride. Entrust me with your MLS jersey, and I'll frame it, ensuring the energy, spirit, and memories of your favorite club remain vividly immortalized.
Europe's Elite Pitches

European Leagues Jersey Framing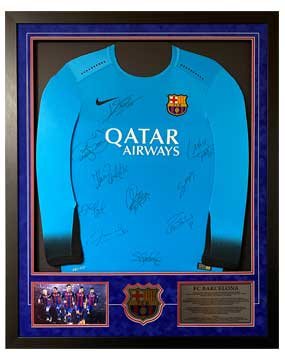 From the roaring stands of England's Premier League to the passionate tifos of Italy's Serie A, from the rhythmic chants of Spain's La Liga to the orchestrated play in Germany's Bundesliga, European soccer is a tapestry of culture, talent, and historic rivalries. Each jersey from these leagues is not just a garment—it's a symbol of club pride, city heritage, and countless unforgettable moments. At Framed by Design, I appreciate the rich traditions and fierce competitions of European soccer. Trust in me to frame your jersey, ensuring every derby victory, league triumph, and iconic goal is preserved with the reverence it merits.
"Drew did an amazing job on all three frames. Excellent and fast communication. I couldn't ask for an easier and better experience. He took care of all three jerseys and got them back to me framed all within a couple weeks. Superb quality on the glass and frames. Highly recommend Drew!"
David Saveriano, Client
Heartbeat of South American Soccer

South American Leagues Jersey Framing
The fervor of South American soccer is unmatched. From the electrifying nights in Brazil's Brasileirão to the intense rivalries in Argentina's Primera División, the continent pulsates with soccer passion. These leagues have gifted the world with legendary players, iconic goals, and moments that define the beautiful game. Each jersey carries with it tales of glory, dreams, and unparalleled fan devotion. At Framed by Design, I recognize the depth of emotion and pride sewn into South American soccer jerseys. Allow me to frame yours, capturing the spirit, joy, and drama of the continent's beloved sport.
It doesn't matter if you're an ardent follower of MLS teams like Toronto FC or you're deeply passionate about the UEFA Champions League. I assist soccer enthusiasts and collectors in framing their most cherished soccer jerseys and memorabilia, making sure they stand as testament to the beautiful game for years to come.
Elite Clubs, Legendary Nights

UEFA Jersey Framing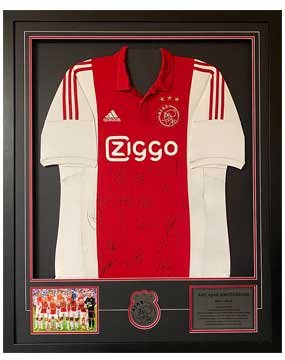 UEFA competitions, from the Champions League to the Europa League, are where club allegiances are tested and legends are forged. The stages are grand, the nights unforgettable, and the emotions raw. Whether it's a jersey from Liverpool's miraculous nights at Anfield or Real Madrid's dominance in finals, each piece encapsulates tales of determination, skill, and European soccer prestige. Trust in me to frame your UEFA jersey with the elegance and care worthy of its storied legacy.
From Group Stages to Finals

FIFA Jersey Framing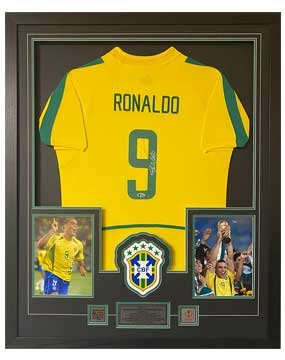 FIFA oversees the world's most celebrated soccer events, with the World Cup standing as the crown jewel. Every four years, nations unite, dreams are realized, and heroes are born. Each jersey from a FIFA event is more than fabric—it's a piece of history, a testament to national pride, and a symbol of soccer's unifying power. At Framed by Design, I approach FIFA jerseys with the reverence they command, preserving those world-stage moments of glory and heartache.
"I am very pleased with the quality, the price, the turnaround and the service. 5 Stars to you folks. I have no reason why I wouldn't buy from you again or recommend your service without hesitation. The frame was easy to load and looks considerably better than I had even hoped."
Tom, Client
FAQ
More than 20 years of experience creating custom frames and displays
Trusted by professional athletes, organizations and leagues
Creative framing – you name it, I can frame it
Handmade with no small details missed or overlooked
High quality materials used so your frames lasts a lifetime