Hockey Jersey Framing
The chilling touch of the ice, the sharp scrape of skates, the heart-pounding seconds leading to a game-deciding goal—hockey is a ballet of speed, strategy, and sheer will. It's a game where every check against the boards tells a story of commitment, and every slap shot is a testament to skill and precision. Whether it's the fierce competition of the NHL, the gritty determination seen in the AHL, or the budding talents in the CHL and College circuits, each jersey carries tales of triumphs, trials, and timeless memories.
You are limited only by your imagination and quite honestly, I've framed pretty much everything you can imagine.
At Framed by Design, I understand the myriad emotions and stories stitched into every hockey jersey. They're more than just fabric; they're emblems of pride, keepsakes of unforgettable games, and mementos of iconic moments. Whether you're a fan cheering from the stands or a player leaving it all on the ice, I'm here to ensure your jersey is framed with the reverence and care it deserves.
Legends, Loyalties, and Iconic Line-ups

NHL Jersey Framing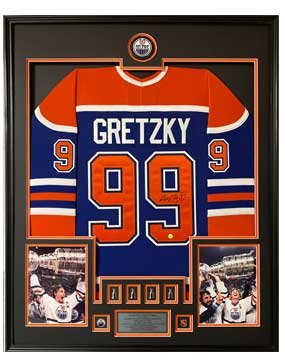 The NHL stands as the zenith of professional hockey, a melting pot of sheer talent, passion, and dreams where legends are crafted and tales of rivalries echo across arenas. From the indomitable legacy of dynasties like the Montreal Canadiens to the fervent hope and excitement surrounding modern-day favourites like the Toronto Maple Leafs, each jersey encapsulates a rich saga of battles on ice. It's not just about players; it's about cities, fans, and lifetimes of memories. Entrust me with your NHL jersey, and I'll encapsulate its spirit and tales. Together, we'll immortalize those pulse-pounding plays, game-winning goals, and crystallized moments of pure hockey magic that resonate long after the final buzzer.
Grit, Growth, and Groundbreaking Plays

AHL Jersey Framing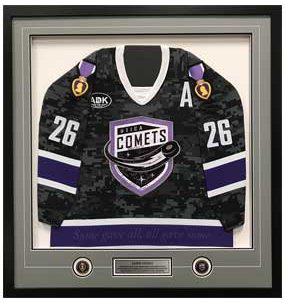 The AHL is where perseverance meets passion. It's the proving ground for emerging talents, a crucible of challenge, and a showcase of determination. Every jersey from this league tells a tale of players battling fiercely for their spot, chasing their NHL dream amidst the cacophony of arena cheers and the grind of long bus rides. With every stitch and logo, memories of hard-fought games and breakthrough moments are interwoven. At Framed by Design, I approach each AHL jersey with deep admiration, encapsulating the drive, ambition, and unyielding spirit it represents, ensuring each frame is a tribute to the journey as much as the destination.
"Drew is first class at his craft. I was looking to frame my own personal jersey with additional accessories like pictures and medals. From my initial communication, Drew treated the project as if he were my teammate and this was his jersey as well. He took my vision and brought it to life with expert consultation and quality suggestions that enhanced the overall impact of the jersey. If you're looking to create a lifetime framed piece that you will be proud to look at everyday, I would highly recommend Drew and Framed by Design. You will not be disappointed."
Andres K., Client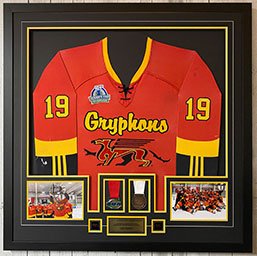 East Meets Elite: Passion on Ice

KHL Jersey Framing
The Kontinental Hockey League (KHL) represents the pinnacle of professional hockey in Eurasia. With teams spanning across countries, each jersey from the KHL weaves a story of international rivalries, dazzling plays, and the universal spirit of hockey. From iconic franchises to memorable playoff showdowns, the KHL embodies a unique blend of skill, strategy, and cultural pride. At Framed by Design, I hold a deep respect for the legacy and calibre of the KHL. Trust me to frame your KHL jersey with the precision and reverence it merits, paying homage to the league's rich tapestry of talent and tradition.
It doesn't matter if you're a die-hard supporter of NHL teams like the Toronto Maple Leafs or you have a passion for junior hockey. I assist hockey fans and collectors in framing their most treasured hockey jerseys and memorabilia, ensuring these iconic pieces are showcased in all their glory for a lifetime.
Futures Forged on Ice

CHL & NCAA Hockey Jersey Framing
The CHL, with its distinguished leagues – the OHL, WHL, and QMJHL – alongside the NCAA's fervent college circuits, serves as the cradle for tomorrow's hockey icons. These platforms are brimming with youthful exuberance, unparalleled talent, and a fiery drive to excel. Each jersey, whether it hails from an OHL team's intense match-up, a WHL showdown, a QMJHL face-off, or an NCAA college team's heated rivalry, stands as a testament to ambition, potential, and the unadulterated love of the sport. At Framed by Design, I'm dedicated to encapsulating the essence of these leagues, ensuring your CHL or NCAA hockey jersey captures and immortalizes those pivotal moments of burgeoning brilliance.
FAQ
More than 20 years of experience creating custom frames and displays
Trusted by professional athletes, organizations and leagues
Creative framing – you name it, I can frame it
Handmade with no small details missed or overlooked
High quality materials used so your frames lasts a lifetime