Golf Memorabilia Framing
Golf, often described as the game of kings, is a sport steeped in tradition, precision, and unparalleled passion. Each swing, each hole, and each tournament tells a story of patience, perseverance, and personal achievement. From the hallowed fairways of Augusta to the challenging links courses of Scotland, golf embodies the aspirations, dreams, and memories of players and enthusiasts worldwide.
From the greens of Augusta to your personal hole-in-one ball, I've framed an array of golf memorabilia that captures the spirit of the sport. Your treasured golf moments are in expert hands.
At Framed by Design, I understand the deep reverence that comes with every piece of golf memorabilia. Each club, ball, glove, or scorecard holds tales of triumphant birdies, challenging pars, and those elusive hole-in-one moments. Whether it's an item from the high-pressure environment of the PGA TOUR, the global allure of the European Tour, the inspiring feats of the LPGA, or personal keepsakes from your own golf journey, I'm dedicated to framing each piece with the care, attention, and respect it truly merits.
Swinging Legends & Timeless Triumphs

PGA TOUR MEMORABILIA FRAMING
The PGA TOUR is the pinnacle of professional golf, showcasing the world's best talents as they compete for glory on some of the most iconic courses. Every item, from signed scorecards of legendary players to clubs used in major victories, captures a moment in the illustrious history of the sport. Trust me with your PGA TOUR memorabilia, and I'll ensure that the legacy, excitement, and spirit of those treasured tournaments and players are preserved with unmatched elegance.
Epic Battles Across Historic Fairways

EUROPEAN TOUR MEMORABILIA FRAMING

The European Tour stands as a testament to golf's global appeal, featuring a tapestry of courses and challenges from around the world. Each artifact, whether it's a ball from the storied greens of St. Andrews or a cap worn during a European victory, holds stories of international rivalries and moments of sheer brilliance. Entrust me with your European Tour mementos, and I'll craft a frame that pays homage to the rich heritage and diverse tapestry of this esteemed tour.
Grace, Grit & Grandeur on Greens

LPGA MEMORABILIA FRAMING

The LPGA celebrates the incredible achievements of women in golf, highlighting their skill, determination, and sportsmanship. Be it a glove from a record-breaking round or a flag from a trailblazing tournament, every piece embodies the progress, passion, and prowess of women in the sport. Allow me to frame your LPGA memorabilia, capturing the essence and influence of the women who have shaped and continue to define this spectacular game.

It doesn't matter if you're a devotee of the PGA TOUR legends or you cherish memories from your local golf club tournaments. I assist golf enthusiasts and collectors in framing their most treasured golf memorabilia, ensuring these precious moments are elegantly displayed for generations to appreciate.
Cherished Strokes & Personal Milestones

PERSONAL GOLF MEMORABILIA FRAMING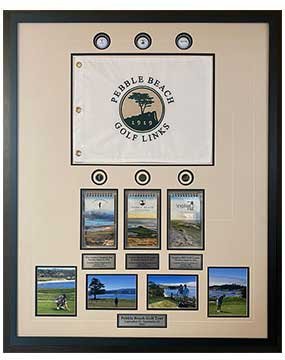 Every golfer, whether amateur or seasoned player, has personal tales of joy, challenge, and accomplishment. Those milestone rounds, cherished golf trips, or even that first set of clubs that sparked your love for the game—all hold a special place in your heart. At Framed by Design, I'm honored to help immortalize these personal golfing memories, ensuring that your unique journey and love for the sport are celebrated and preserved for generations to come.
FAQ
More than 20 years of experience creating custom frames and displays
Trusted by professional athletes, organizations and leagues
Creative framing – you name it, I can frame it
Handmade with no small details missed or overlooked
High quality materials used so your frames lasts a lifetime