Custom Framing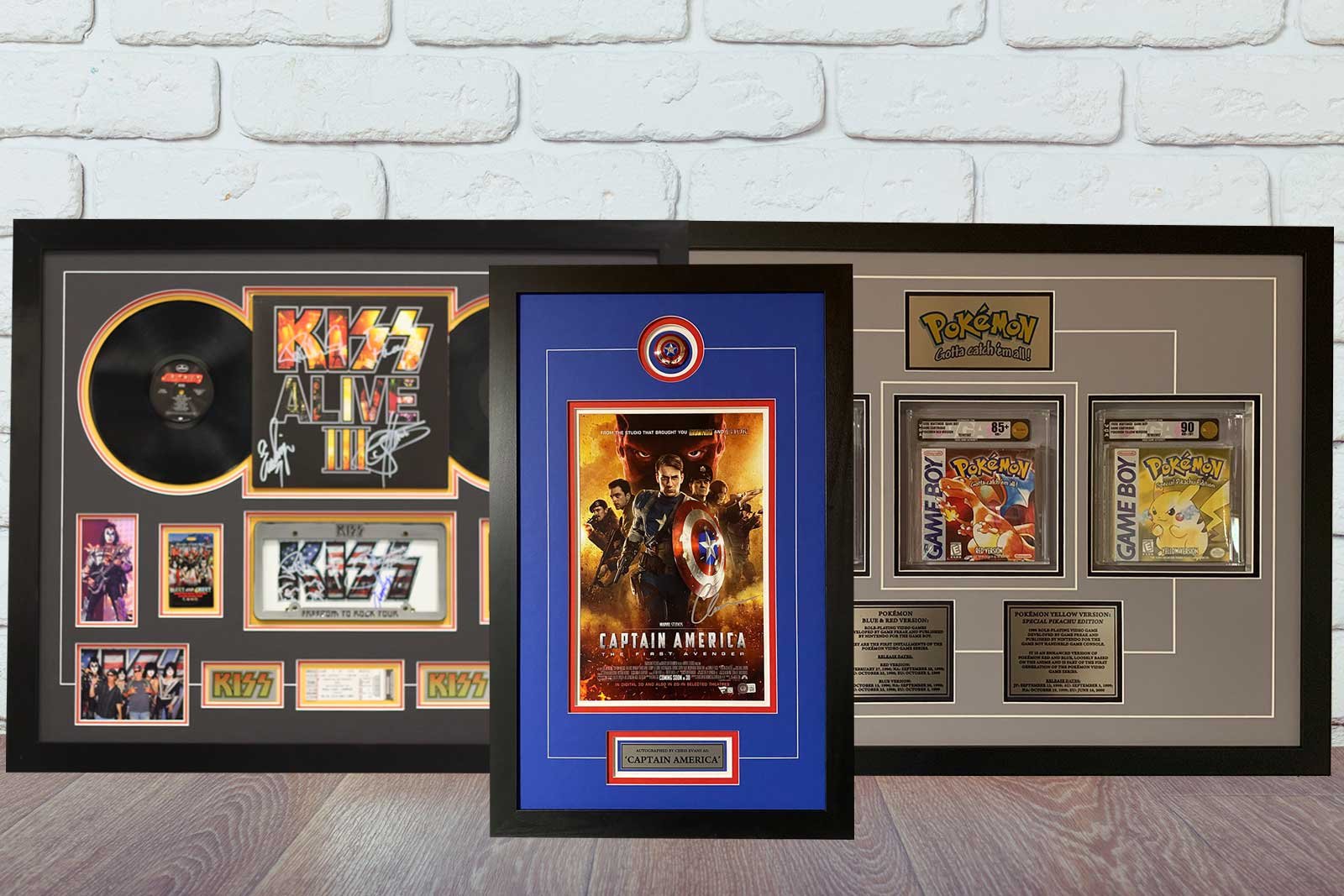 From the adrenaline of sports memorabilia to the nostalgic allure of video game collectibles, the rhythm of music artifacts to the tender mementos of weddings — if it holds significance, it deserves to be framed. I take pride in offering custom framing solutions tailored to every passion, every memory, every heartbeat. No matter the item or its story, I'm here to ensure it's not just framed, but celebrated.
Unique frames limited only by

Your Imagination

Custom framing guarantees that your piece will be preserved for future generations to enjoy.

If you're contemplating the choice between a store-bought, ready-made frame and a bespoke creation, allow me to highlight the differences. I recognize that every object, be it a photograph, collectible, or cherished memento, holds immense value to you—it's a glimpse into who you are. Opting for custom framing ensures not only preservation for future admirers but also perfection in presentation. No imperfections, no misalignments. Each frame is crafted to precise dimensions, professionally encapsulating and elevating your treasured memory.
Custom Frames
Many are often intrigued to discover that beyond jerseys, I frame a vast array of uniforms and sporting accessories. While it's challenging to encapsulate the entirety of what I can frame in a succinct list, here's a glimpse: lacrosse, field hockey, softball, volleyball, paintball, motocross, wrestling, rowing, golf, tennis, cycling, MMA and UFC, boxing, NASCAR, cricket, rugby, alpine skiing, and so much more. Your sport, your memory, meticulously framed.
Custom Displays, Baby Frames
Pondering how to cherish that treasured outfit your baby donned when coming home from the hospital? I craft bespoke displays that encapsulate not just the outfit, but also mementos like hospital bracelets, photos, baby booties, and more. Such displays are not just memory holders; they're timeless gifts, perfect for cherishing those irreplaceable moments.
Comics
Are you a fan of iconic tales from DC Comics or Marvel? Do you possess a cherished comic book or memorabilia that recalls epic battles and heroic adventures? I specialize in crafting bespoke frames that not only protect these vibrant narratives but also celebrate their legacy. Whether it's a rare first edition, an autographed gem, or a prized issue featuring your favorite superhero, my frames give these treasures the spotlight they deserve, ensuring they're both showcased and safeguarded for generations to come.
Gaming
From the timeless strategy of classic board games to the immersive universes of video games, gaming holds a special place in many hearts. Do you have an iconic cartridge from the NES era or a cherished Atari system gathering dust? Perhaps a Monopoly set from your childhood or a mint-condition Sega Genesis? I bring expertise in framing and preserving both traditional board games and video game memorabilia. My custom frames are designed to celebrate and safeguard the history, artistry, and nostalgia of gaming, from vintage systems like the Super Nintendo and Commodore 64 to today's modern masterpieces.
Movies
The magic of cinema is timeless. Whether it's a vintage movie poster from Hollywood's golden era, a treasured collectible from your favorite blockbuster, or a classic VHS or DVD that shaped your love for film, each piece carries a story worth preserving. At Framed by Design, I specialize in encapsulating the wonder of movies. My custom frames are meticulously designed to protect and showcase film memorabilia, ensuring that every poster, video tape, DVD, or collectible is both a conversation piece and a lasting testament to the art of cinema.
Music
Music, an universal language, resonates deeply with us all, transporting us to different times and places. Whether it's a coveted award that marked a career milestone, a vinyl record that played the soundtrack to your life, cherished concert tickets from unforgettable nights, or unique collectibles from your favorite artists, each item pulsates with rhythm and emotion. At Framed by Design, I channel my expertise to frame these musical treasures. Every custom frame is curated to protect and celebrate these pieces, ensuring that the beat goes on and the memories sing forever.
Sports
The thrill of a last-second victory, the camaraderie of a team, the sheer adrenaline of competition – sports capture our collective spirit in myriad ways. Whether it's a collectible from a historic game, an autographed poster of your sports hero, a cherished ticket stub from a championship match, or a uniform that bore witness to countless battles on the field, each item is a piece of athletic history. At Framed by Design, I'm devoted to immortalizing these moments. With bespoke framing, I ensure every collectible, autograph, and piece of memorabilia is displayed in its full glory, preserving the passion and excitement of sports for generations to come.
Wedding Frames
A wedding is a fleeting yet profound moment in a couple's journey. Instead of the traditional guest book, why not immortalize well-wishes in a unique way? Invite your guests to sign a bespoke frame, thoughtfully crafted for the occasion. This becomes more than just decor—it's a daily reminder of love, support, and the shared joy of that special day. A beautiful merger of art and memories, this frame is a timeless testament to the start of their shared life.
"Thank you very much it all looks wonderful. We will be telling our friends about your great work and service."
Nicole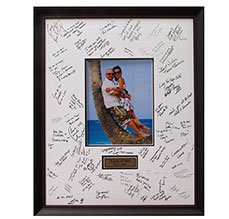 Highlights
More than 20 years of experience creating custom frames and displays
Trusted by professional athletes, organizations and leagues
Creative framing – you name it, I can frame it
Handmade with no small details missed or overlooked
High quality materials used so your frames lasts a lifetime