Other Sports Memorabilia Framing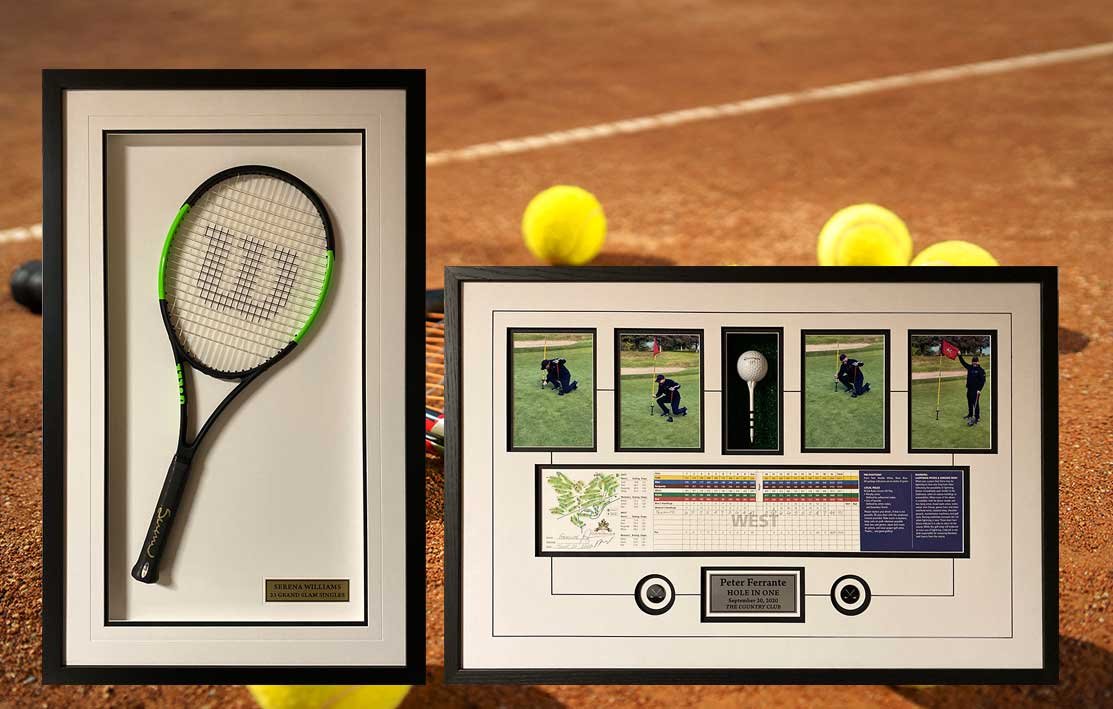 Sports isn't just about the scores or the medals, it's about the memories forged, the stories told, and the spirit embodied in every piece of gear, from the swift tennis rackets to the iconic boxing gloves. At Framed by Design, I appreciate the significance of each memorabilia item, understanding that they are tangible tokens of moments of triumph, dedication, and passion.
You are limited only by your imagination and quite honestly, we've framed pretty much everything you can imagine.
Whether it's equipment worn or used on the world's grandest stages, artifacts from niche yet passionately cherished sports, or treasured mementos from personal achievements and milestones, each piece tells its own unique tale. I'm not just framing objects; I'm enshrining legacies, moments, and emotions. With meticulous attention to detail and a deep respect for the stories they hold, I'm dedicated to preserving those memories with unmatched craftsmanship and care.
Serve, Rally, Match Point

Tennis Memorabilia Framing

Tennis, a game of elegance and endurance, holds moments that echo long after the final serve. Whether it's a racket from a grand slam victory, shoes that have sprinted across historic courts, or a signed ball from a legendary match-up, each piece captures a unique rally in time. At Framed by Design, I pledge to frame your tennis memorabilia with the distinction it merits, keeping every ace and game-set-match alive and resonant.
Scrum, Tackle, Triumph

Rugby Memorabilia Framing

Rugby, a celebration of teamwork and tenacity, holds stories that resonate far beyond the field. Be it a jersey from a historic match, cleats that have seen countless tries, or a ball from a decisive game, each piece is a chapter of a larger narrative. At Framed by Design, I commit to framing your rugby memorabilia with the reverence it deserves, ensuring each story remains vivid.
Throttle, Rev, Victory

Auto Racing & Motocross Memorabilia Framing

Auto racing and motocross, where speed meets skill and precision, encapsulate adrenaline-pumped tales from the tracks. Be it a suit from a championship race, gloves from a daring motocross jump, or a helmet that's been through intense circuits, each item narrates its own high-octane story. At Framed by Design, I dedicate myself to framing your racing memorabilia, preserving every moment of thrill and triumph.
Tales of Fists and Fortitude

MMA & Boxing Memorabilia Framing
The worlds of MMA and boxing are arenas of sheer will, technique, and heart. Every glove, trunk, and robe carries sweat-soaked stories of dedication, intense training, and moments that define champions. Whether it's the gloves from a title bout, the trunks from an iconic fight, or the mouthguard from a legendary round, I'm here to enshrine those combat memories, paying tribute to the warriors of the ring and octagon.
"Drew was great to deal with from start to finish in providing a great product and outstanding customer service. From initial contact to designing the frame, Drew was attentive and took steps to ensure I was completely satisfied with the final product.The final frame is exactly what I was hoping for and more. High quality product with great attention to detail. You won't find a custom framer that provides the quality and service Drew will provide. I'll definitely be going back for future framing projects."
TJ, Client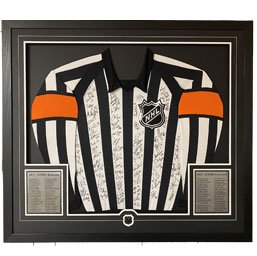 Fairways, Greens, and Moments In-Between

Golf Memorabilia Framing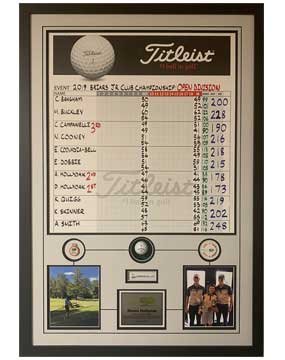 Golf, a serene dance of patience and precision, unfolds against the backdrop of meticulously manicured greens and hushed anticipations. It's a game where tales of majestic drives, clutch putts, and unwavering focus come to life. From the cap worn during a masterful round to the club swung for that exhilarating hole-in-one, every piece isn't just equipment — it's a marker of memories, of challenges met and records set. At Framed by Design, I take pride in framing your golf memorabilia. With an artisan's touch, I ensure the spirit of the game and your cherished moments are elegantly preserved, creating a timeless tribute to both the sport and the golfer's journey.
Whether you're inspired by the precision of golf swings, the finesse of tennis plays, or the raw intensity of boxing and MMA matches, I've got you covered. I assist sports enthusiasts from diverse disciplines in framing their valued equipment, jerseys, and memorabilia, transforming these treasures into timeless displays to cherish for generations.
And Beyond…
The world of sports is vast and varied, filled with tales from tracks, fields, courts, and arenas. Every piece of memorabilia, be it from athletics, swimming, cycling, or any other sport, holds a special significance. Share your sport and its memories with me, and I promise to frame them in a way that pays tribute to its unique legacy and sentiment.
FAQ
More than 20 years of experience creating custom frames and displays
Trusted by professional athletes, organizations and leagues
Creative framing – you name it, I can frame it
Handmade with no small details missed or overlooked
High quality materials used so your frames lasts a lifetime