Baseball Jersey Framing
The crack of the bat, the roar of the crowd, and the palpable tension of a no-hitter in the making—these aren't just moments, they're heartbeats in the life of every baseball enthusiast. Baseball weaves together a tapestry of sun-soaked afternoons, under-the-lights evening games, childhood dreams, and professional pinnacles. It's more than scores, statistics, and standings—it's an ever-evolving story, rich in history and hope.
You are limited only by your imagination and quite honestly, I've framed pretty much everything you can imagine.
At Framed by Design, I don't just see a jersey; I see the sweat and struggle, the triumphs and trials, the journey of both player and fan. My craft is dedicated to encapsulating these myriad emotions and memories stitched into each piece. Whether it's a nod to an iconic moment in the majors, a cherished memento from college games, or the symbol of one's aspirations in the minor leagues, I believe that behind every jersey lies a narrative waiting to be showcased and celebrated.
From Historic Ballparks to Your Wall

MLB Jersey Framing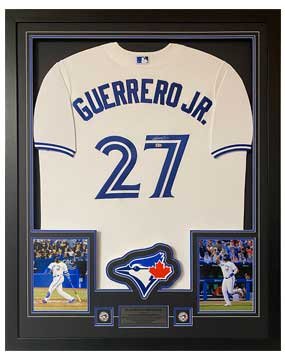 Major League Baseball is where legends are made and dreams come alive under the stadium lights. Each jersey, whether it's from dynasties like the Yankees or rising stars like the Blue Jays, carries with it a rich tapestry of history, sweat, and unforgettable moments. From iconic home runs to game-changing plays, every stitch tells a story. Entrust me with your MLB jersey, and I'll craft a frame that not only preserves its legacy but amplifies its glory, serving as a testament to the enduring spirit and magic of the game.
Cherishing Collegiate Achievements

NCAA Jersey Framing

The NCAA is where budding talents showcase their skill and determination. Each game, each tournament, writes a new chapter in the annals of college baseball. Your NCAA jersey isn't just fabric; it's a symbol of dedication, teamwork, and those electric moments under the stadium lights. Let me encapsulate those memories in a frame that pays homage to your journey and achievements.

"Just thought I'd let you know that my brother loved his framed Carter jersey. He was really blown away by how nice the frame looked."

Jason, Client
Honoring the Heartbeat of Baseball

Minor Leagues Jersey Framing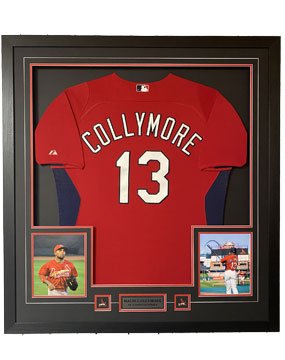 The Minor Leagues: where raw talent meets relentless drive. It's the arena where potential is nurtured, where every play and pitch can be a stepping stone to the majors. It's the proving ground, the place where dreams are fuelled, challenges are embraced, and futures are forged. Your Minor League jersey is more than fabric—it's an emblem of ambition, a testament to every practice, every game, every moment of growth. I'm here to give it the recognition it deserves, framing each jersey with the precision and reverence befitting its story, ensuring the journey and memories are eternally celebrated.
It does not matter if you're a fan of MLB teams like the Toronto Blue Jays or you love NCAA college basketball. We help baseball fans and collectors frame their most treasured baseball jerseys and memorabilia so they can be prominently displayed for a lifetime.
FAQ
More than 20 years of experience creating custom frames and displays
Trusted by professional athletes, organizations and leagues
Creative framing – you name it, I can frame it
Handmade with no small details missed or overlooked
High quality materials used so your frames lasts a lifetime