Military Medal Framing
In the world of the military, every medal and uniform holds a story that transcends time. They are not just mere symbols of recognition or pieces of fabric; they are echoes of the past, embodying tales of bravery, sacrifice, and honorable service. These items bear witness to moments of valor, acts of selflessness, and milestones of duty. Each one represents an individual's commitment to something greater than themselves, a narrative of their journey, their challenges, and their triumphs.
Recognizing Service and Sacrifice

Military Medal Framing
Military medals are more than just accolades; they're narratives etched in metal. Each ribbon, star, or medallion is a chapter in an individual's journey, a testament to their dedication to service, moments of bravery, and milestones of commitment. These are awards that resonate deeply, not just with those who wear them but with an entire nation grateful for their service. Trust in me to frame your military medals, enshrining their significance and the history they represent with the dignity and attention they deserve.
Did you know that the most revered way to honour military service is by framing the distinguished medals awarded? Safeguard these symbols of bravery and dedication in a custom frame, ensuring that acts of valour and sacrifice are forever recognized and cherished.
Tales of Duty and Devotion

Military Uniform Framing
Each military uniform tells a story. The fabric carries with it memories of drills, deployments, ceremonies, and moments that define a service member's journey. Every patch, insignia, and stripe holds a specific meaning, marking ranks achieved, units served with, and missions accomplished. At Framed by Design, I understand the weight and sentiment behind these uniforms. Whether you wish to preserve a full uniform or just specific elements of it, I'm here to frame it with the meticulous care and respect befitting its legacy.
Did you know that framing is a distinguished way to preserve and showcase military uniforms? Honor the service and commitment encapsulated in each uniform by placing it within a custom frame, creating a lasting tribute to duty, honor, and the sacrifices made.
"I don't think one can find a better frame for those marathon majors medals. Looks really cool and is definitely the nicest looking frame I've come across when searching for one. Thanks a lot for the whole process, now you got a happy (and first?) customer in Finland."
Juha, Finland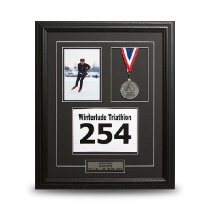 FAQ
More than 20 years of experience creating custom frames and displays
Trusted by professional athletes, organizations and leagues
Creative framing – you name it, I can frame it
Handmade with no small details missed or overlooked
High quality materials used so your frames lasts a lifetime