Basketball Jersey Framing
The rhythmic bounce of the ball on the hardwood, the anticipatory silence blanketing the arena before a crucial free throw, the rapturous roars echoing as a game-winning shot finds its mark—basketball is a tapestry of highs and lows, a journey of heartbeats and breathless moments. It's not just about points on a scoreboard, but stories crafted on courts, from neighborhood playgrounds to grand arenas, weaving together dreams, determination, and drama.
You are limited only by your imagination and quite honestly, we've framed pretty much everything you can imagine.
My craft goes beyond mere framing. It's about capturing and celebrating the soul of the game, the fervor of fans, the passion of players, and the myriad memories etched into every jersey. Whether it's an ode to legendary slam dunks in the NBA, a tribute to the groundbreaking strides in the WNBA, or the undying spirit showcased in NCAA matchups, I approach each jersey as a unique narrative, a testament to challenges faced and triumphs revered.
Legends in the Making, Legacy on Display

NBA Jersey Framing
The NBA is where stars shine brightest, where moments become history, and players etch their names into the annals of basketball greatness. Each jersey, from dynasties like the Lakers to local teams like the Raptors, carries tales of ambition, talent, and unparalleled dedication. Trust me to frame your NBA jersey in a manner that doesn't just protect, but glorifies its iconic significance.
Trailblazers, Trendsetters, Titans

WNBA Jersey Framing

The WNBA isn't just a league; it's a movement, a testament to perseverance, and the indomitable spirit of women in sports. Every jersey from this league symbolizes not only athletic prowess but also the broader aspirations and achievements of women worldwide. Let me encapsulate these stories, framing your WNBA jersey with the reverence and admiration it deserves.

"I just wanted to take this time and say thank you so much for framing my jersey and for your services. You did an awesome job and you exceeded my expectations and were always so quick to reply when I had questions. Your work is great. Who knows I might get a Lowry jersey now, and if I do, I'll for sure come to you to get it framed."

KaMaL Parmar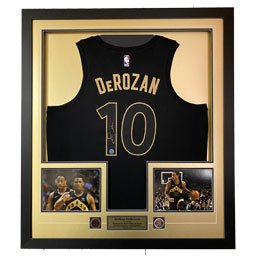 Where Dreams Tip Off

NCAA Basketball Jersey Framing
NCAA basketball is the crescendo of college sports, where young talents lay it all on the court, fueled by dreams and driven by determination. Each jersey represents intense training sessions, campus cheers, and the indescribable pride of representing one's institution. At Framed by Design, I bring the same dedication to framing your NCAA jersey, ensuring those unforgettable college moments remain vivid and cherished.
It does not matter if you're a fan of NBA teams like the Toronto Raptors or you love NCAA college basketball. We help basketball fans and collectors frame their most treasured basketball jerseys and memorabilia so they can be prominently displayed for a lifetime.
FAQ
More than 20 years of experience creating custom frames and displays
Trusted by professional athletes, organizations and leagues
Creative framing – you name it, I can frame it
Handmade with no small details missed or overlooked
High quality materials used so your frames lasts a lifetime